Bar Maid/Glass Pro, CR-1280, Bar Supplies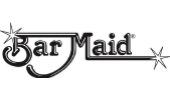 Product Code: CR-1280
Bar Maid/Glass Pro, CR-1280, Bar Supplies is available to buy in increments of 1
Product Overview / Details
Selling Units Per Case: 1 each
BOTTLE OPENER - WALL MOUNT "ULTIMATE OPENER"
Description
Introducing the Bar Maid/Glass Pro CR-1280, the ultimate wall-mounted bottle opener for commercial restaurant use. This sleek and durable opener is a must-have for any bar or kitchen, providing convenience and efficiency in one compact design. With its easy-to-use functionality, you can effortlessly open bottles with a single motion, saving you time and effort during busy shifts. The Bar Maid/Glass Pro CR-1280 is built to last, ensuring long-lasting performance even in high-volume environments. Its sturdy construction and wall-mount design make it a space-saving solution, perfect for maximizing your bar or kitchen area. Whether you're a bartender, server, or restaurant owner, this bottle opener is an essential tool that will streamline your operations and enhance customer satisfaction. Invest in the Bar Maid/Glass Pro CR-1280 and experience the convenience and reliability that it brings to your commercial restaurant.